| | | |
| --- | --- | --- |
| 7163KHZ | | 7163KHZ |

NEW MEMBER
W2WCM
BILL
VIENNA,VA
#122


NEW MEMBER
W4GAL
GARY
MELBOURNE, FL
#123
BIOGRAPHY

Bill, W2WCM's ham radio introduction was while working as a co-op student at Pan American World Airways in the 1960s. There were some great old communications engineers there who were very enthusiastic about amateur radio. One of them helped him get my novice license, as WN4HYN. Little did he know then that he would end up being a pilot for Pan Am.

After finishing graduate school, he went into the Foreign Service, sort of as a lark. It was going to be for a couple of years. Twelve years later, he left to follow a dream to fly, and ended up with a career as an airline pilot, for Pan Am and Delta.

Somewhere along the way, he got interested in ham radio again, and got a technician license-KE4DWZ. He really enjoyed VHF+ for a few years, and then he got wrapped up in flying and set radio aside. This is a shame, since he could have worked air mobile on HF while flying across the N. Atlantic.

Fast forward to mandatory retirement from the airlines, and in an effort to keep his brain active, he upgraded to Extra Class, and now really enjoys working "casual" DX, some contests, and nets. He has a very modest station, with just 100 watts into a Carolina Windom set up about 30 feet. He is able to enjoy working "big signal" stations, and let them do the heavy lifting!

With respect to work, He is now a Substance Abuse Counselor, working primarily with opiate addicts. What a experience that has been. Amateur radio now gives him a chance to relax!

BIOGRAPHY


Gary passed the Novice in December of 1954. He was on the air in January of 1955 on 80 meter CW with an 807 and a mismatched antenna with pages and pages of CQs and very few replies. (All new hams thought they were supposed to log every transmission!)

During the next 60 years: An active ham primarily on CW; First Class Radiotelephone; State Police Dispatcher – 6 years including a stint as a State Police CW operator; USAF – 4 years; BS Psychology – Iowa State; Married for 50 years; 2 children; 4 grandchildren.

27+ years in Life/Health Insurance and Annuities, and a Securities broker. For the past 20 years, Gary has been the Founder/President of an insurance school and one of the instructors for those preparing for a career in insurance and securities.
K5PA, GENE
ENJOYING HIS NEW YAPSTER HEADSET
Plus
His Stealth Backyard Vertical


FAR EAST MEETS FAR WEST
1-9-16


(L-R) ZORRO-JH1AJT, Eeee-KE5EE'S XYL, HANK-W0CZE AND SHARON, HANK'S XYL
PHOTO TAKEN IN HONOLULU, HAWAII



This photo was taken in Honolulu of Eeee, Zorro-JH1AJT, Hank- W0CZE & his wife Sharon at dinner at a great Restaurant overlooking the Pacific Ocean. While having dinner they watched the weekly fireworks display from Waikiki beach.


T42US JOINT CUBAN/USA DX EXPEDITION TEAM
Havana, Cuba


7163 Group Members (L-R Gordon-WB0TKL, Jim-WB2REM, Mark-WC3W, Mr. Rodriguez-CO2RP (FRC President), Bob-CM2KL and Nancy-K9DIG

K4MT-Gary and K4MTT-Kathy OLD/NEW Station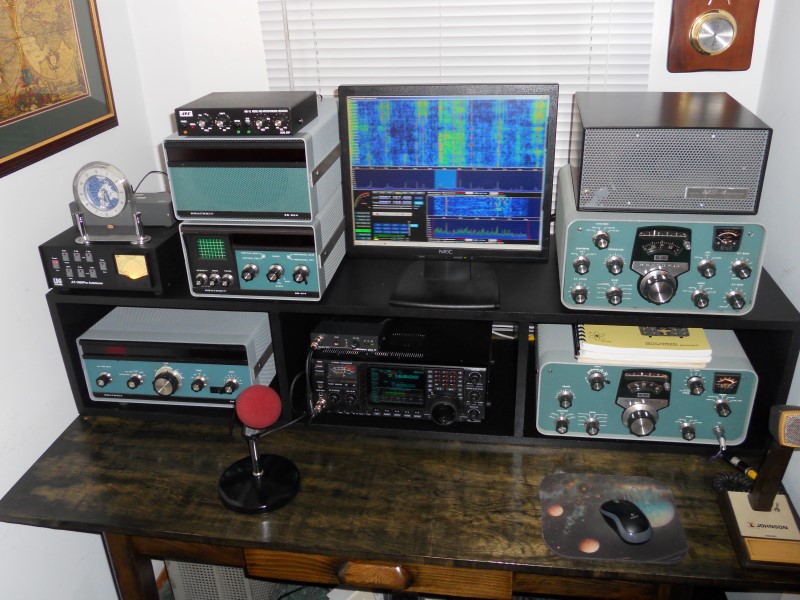 NANCY, K9DIG AND SON MIKE
STIRLING CASTLE, SCOTLAND
BIRTHPLACE OF MARY QUEEN OF SCOTS
9-20-15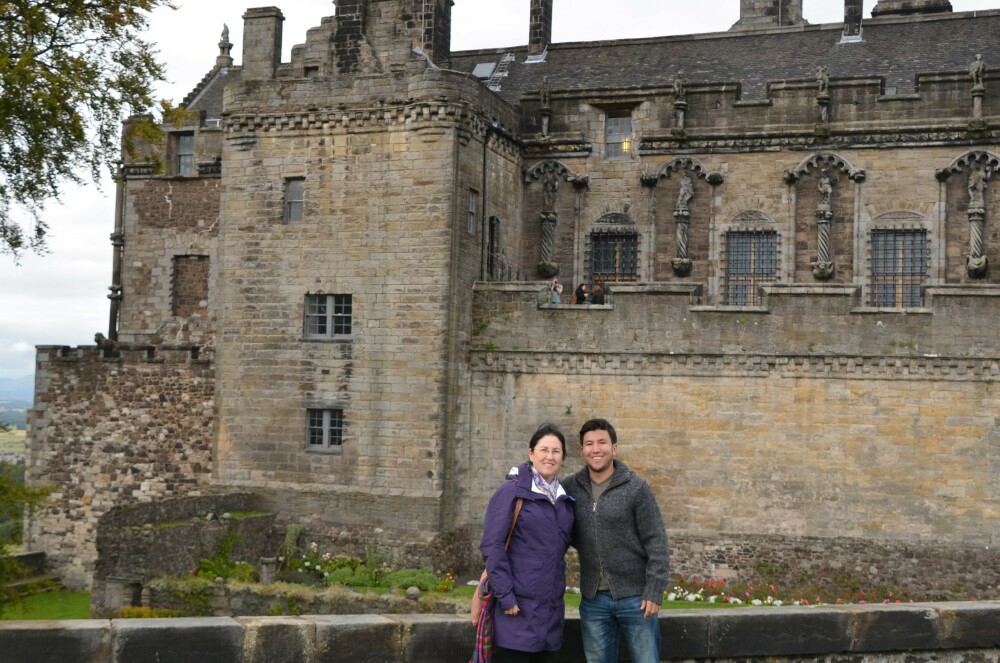 HI3/KB2MS
Mark's QTH in Puerto Plata, Dominicam Republic
K9DIG-NANCY AND CAT HOOKED UP TO THE
WB2REM REMOTE LINK
(7-30-15)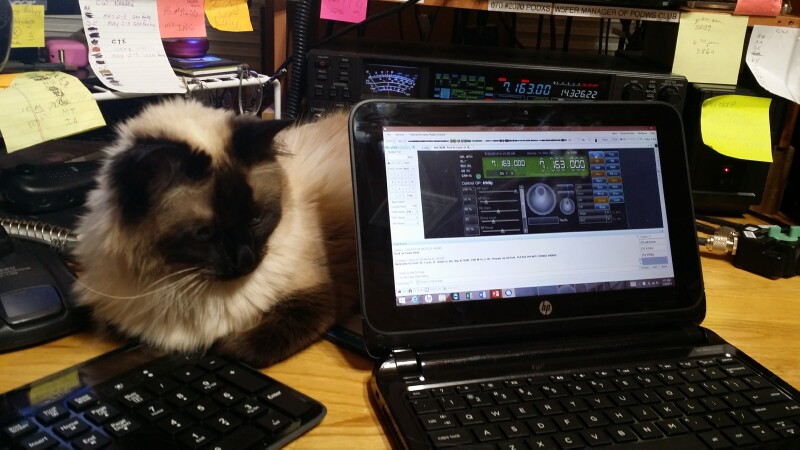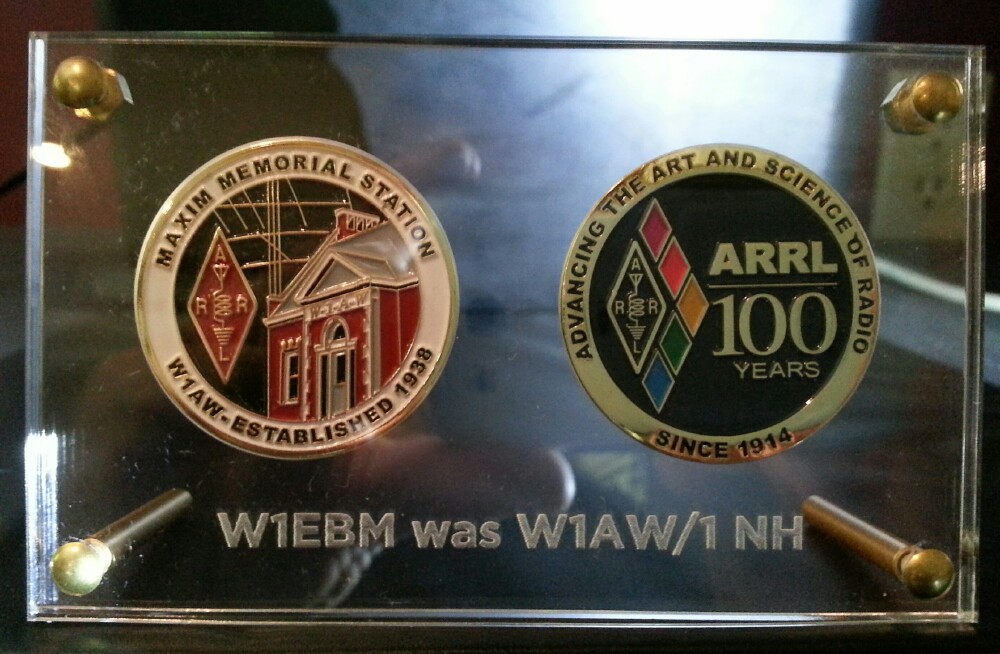 2014 marked the 100th anniversary of the ARRL.
For the Centennial, the League launched an exciting state-by-state monthly on-air activity, which became very popular.
The following 7163 Group Members received an ARRL Plaque as formal recognition for their participation in the Centennial. A photo of the plaque received by W1EBM is shown, It's a nicely done 3-inch by 5-inch Plexiglas memento, with the League's HQ Building and the ARRL 100 years symbol + a unique etching of each station's call and their state.

| | |
| --- | --- |
| CALL | W1AW/ |
| W1EBM-GARY | W1AW/1 NH |
| WB2REM-JIM | W1AW/4 FL |
| K8XS-TIM | W1AW/4 FL |
| K9DIG-NANCY | W1AW/0 ND |
| N7BD-DON | W1AW/0 MO |
| W4QN-NORM | W1AW/4 FL |
| KN4KL-ED | W1AW/KG4 GITMO |
| KA9TEW-JEFF | W1AW/9 IN |
| K8TE-BILL | W1AW/5 NM |
| K2GAV-TED | W1AW/1 CT |
WB4VMH-DICK'S "CUBE" QUAD PROJECT COMPLETED
(5-28-15)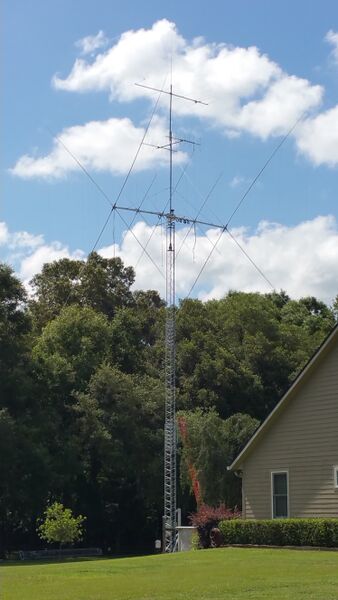 7163 Group Etiquette- and procedure
By Norm, W4QN


I have now had time to read through the 25 or so exchanges made regarding the subject of QRP and DX operating practices. I thought the comments cover a range of issues but I did not see any clear coalition of thought and some bordered on personalities and not what I think is or maybe the issue. I think first we have to examine the various activities and operating process of the 7163 group. I will try to summarize some of my observations, (READ MORE)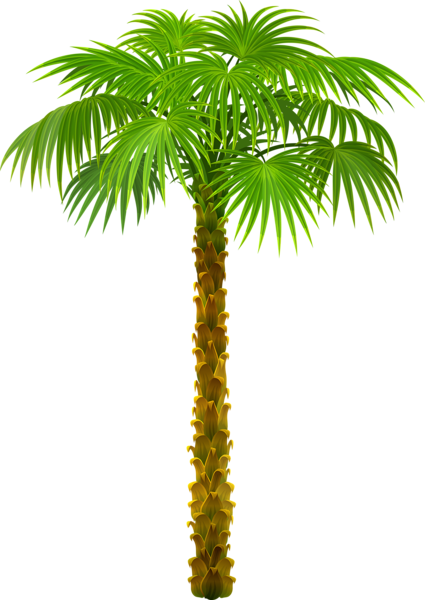 ORLANDO HAMCATION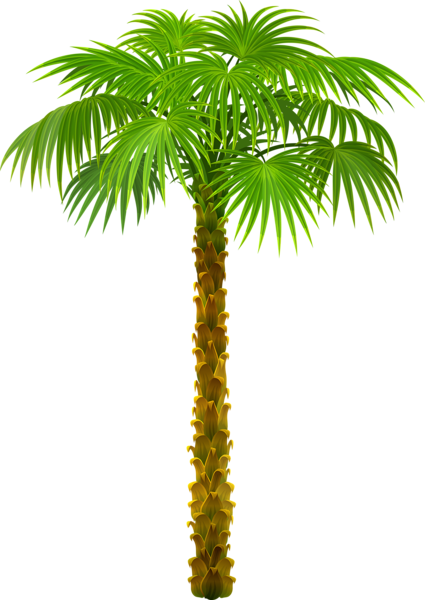 6Y5CN -MARK MEETS
( L-R) DON-N7BD, NANCY-K9DIG, MARK-6Y5CN, JIM-WB2REM, DICK-K0QWB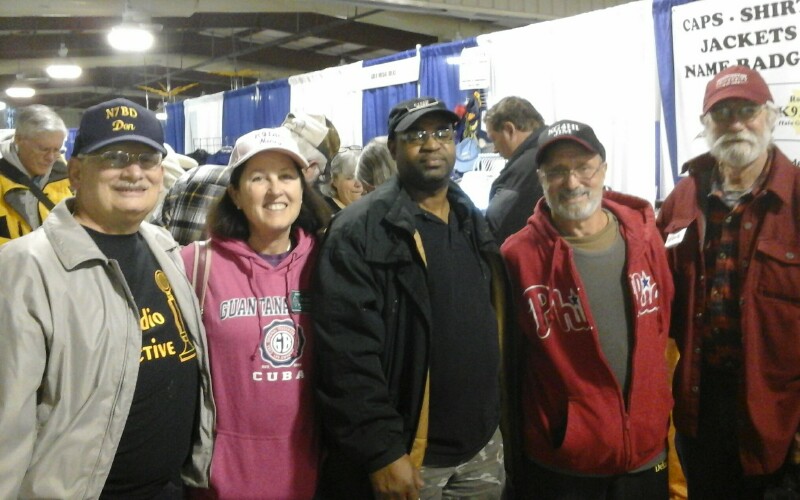 More Orlando Hamfest Pictures
(Click To Enlarge)
KC9TEW
JEFF'S NEW STATION CONSOLE
(3-22-15)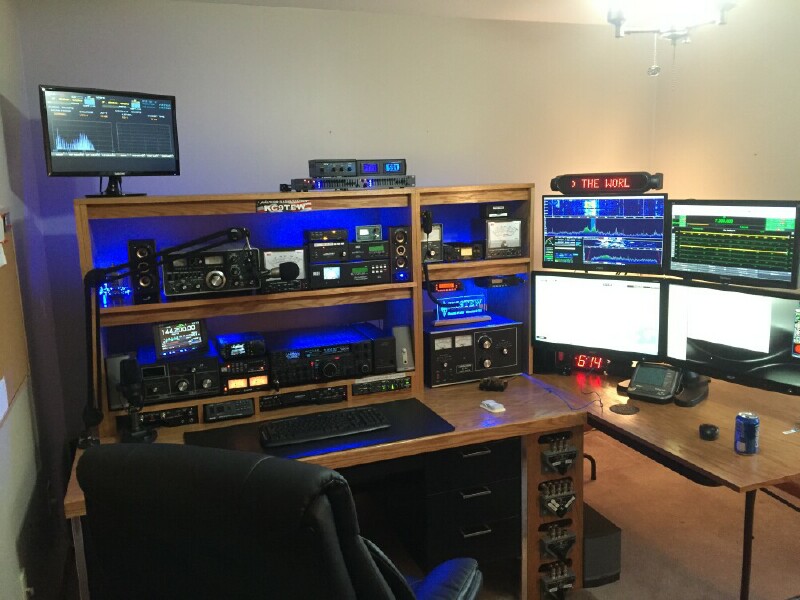 7163 GROUP MEN/WOMAN IN BLACK
TAKE ON THE ALIENS AT UNIVERSAL STUDIOS -- ORLANDO, FL
(L-R TOP STEVE-W4SJT, GORDON-WB0TKL, DON-N7BD)
(L-R) BOTTOM NANCY-K9DIG, JODY-W4SLD, JIM-WB2REM)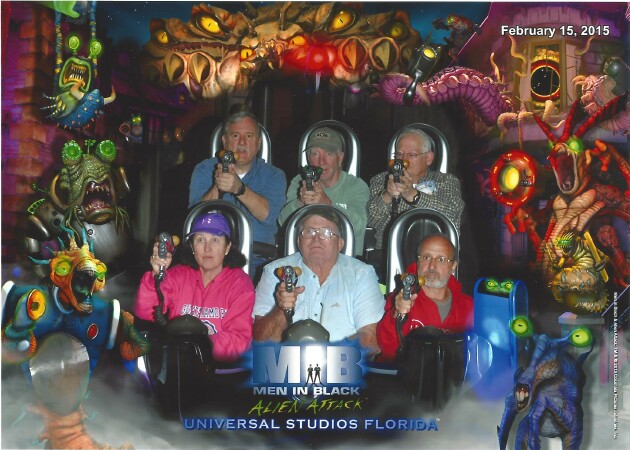 ROBERT-K5SOK "THE ALLIGATOR HUNTER"
(8-31-14)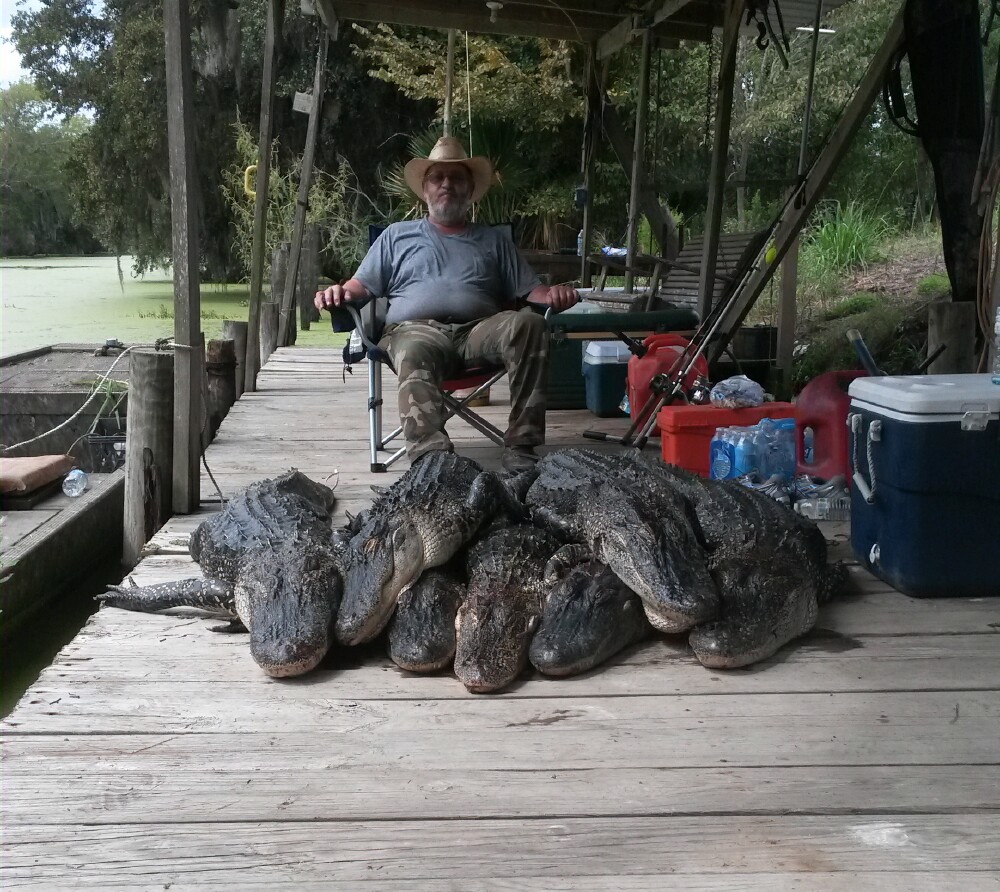 7163 ARCHIVE #4 (9-18-14 to ?)
K9DIG-NANCY VISIT'S JIM, WB2REM'S QTH
(Pictured Glenn and Nancy-Jim and Pam)
9-18-14

NANCY, K9DIG WITH SON MIKE
WHO WON A REGIONAL NEWS TEAM EMMY
(Note: Michael is a newsreporter for WDAZ TV in Grand Forks, ND)

KH6CG-STAN AND XYL (Eeee) and K9DIG WITH STAN IN HAWAII
(10-28-14)

AC4LB
KATHY'S MINATURIZED AMATEUR RADIO
(Click Pictures To Enlarge)

WB4CTX-LANDON(Grandson) ON THE AIR!


7163 GROUP DX EXPEDITION
GUANTANAMO BAY
CUBA
FEBRUARY 6 - FEBRUARY 13, 2015



KG4HI - JIM (WB2REM)
KG4YL-NANCY (K9DIG)
KG4RQ - BOB (N4PSK)

DX LAB POWERPOINT PRESENTATIONW4QN


CLICK FOR DX LAB POWERPOINT PRESENTATION
WOODY'S BACKYARD ZOO
WW1WW